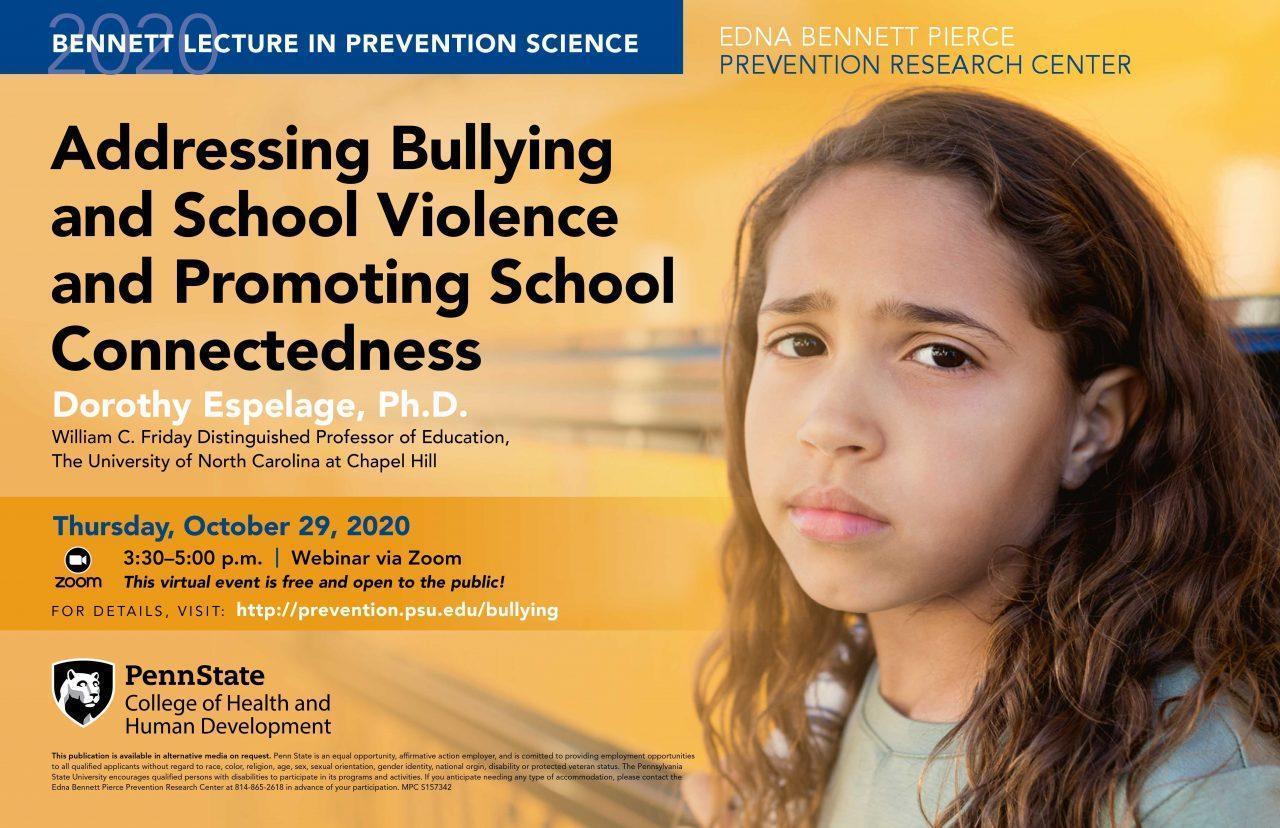 In the wake of school violence across the U.S., visible security measures have been put into place in many schools. These include active shooter drills, metal detectors, clear backpacks, and school security officers; one cost of these measures is the hardening of our schools. To mitigate this effect, we must train educational professionals to understand trauma-informed approaches, social-emotional learning, restorative practices, and culturally competent practices.
Dr. Espelage will discuss two decades of research on bullying and other forms of youth violence, highlighting the efficacy of school-based programs. Innovative efforts to address bullying, sexual violence, and school violence include apps for students to communicate emotional and physical safety concerns, youth-led student campaigns to address mental health issues and school climate concerns, and professional development training programs for school police officers.
About the speaker:
Dorothy L. Espelage, Ph.D., is William C. Friday Distinguished Professor of Education at the University of North Carolina Chapel Hill. She received the 2020 Prevention Science Award from the Society for Prevention Science, an American Psychological Association (APA) Lifetime Achievement Award in Prevention Science, and the 2016 APA Award for Distinguished Contributions to Research in Public Policy. She was recently elected to the National Academy of Education. She earned her Ph.D. in Counseling Psychology from Indiana University in 1997. She has edited six books and authored over 190 peer-reviewed articles and 70 chapters on bullying, homophobic teasing, sexual harassment, dating violence, and gang violence.
Her research focuses on translating empirical findings into prevention and intervention programming. She advises policymakers on bullying prevention legislation and conducts regular webinars for Centers for Disease Control (CDC), National Institutes of Health (NIH), and the National Institute of Justice (NIJ). She authored a 2011 White House Brief on bullying among LGBTQ youth and attended the White House Conference in 2011. She has been a consultant to the stopbullying.gov website and the National Anti-bullying Campaign at the Health Resources and Services Administration (HRSA) in the U.S. Department of Health and Human Services. She has presented at the Federal Partnership to End Bullying Summit and Conference and is a consultant to the NIH Pathways to Prevention Initiative to address bullying and youth suicide. She has secured more than $12M in funding from the CDC, NIH, NIJ, and other sources.
Dr. Espelage has appeared on many television news and talk shows, including The Today Show, CNN, CBS Evening News, The Oprah Winfrey Show and Anderson 360 and has been quoted in the national print press, including TIME Magazine, USA Today, People, Boston Globe, and the Wall Street Journal.