Partners: Pennsylvania Department of Health
This project, supported by the Pennsylvania Department of Health (PA DoH), is for the facilitation of technical assistance (TA) in support of continuous quality improvement for the PA Coordinated Medication-Assisted Treatment (PacMAT) Program. This multidisciplinary project incorporates faculty and staff from across the Commonwealth and aims to directly support the efforts of the Commonwealth government in combating the opioid epidemic. This project seeks to provide DoH and PacMAT sites with key information and feedback as well as MAT continuing medical education credits for statewide practitioners. This includes the description and comparison of service provision and capacity for all established PacMAT sites, as well as patient morbidity, mortality, service utilization and costs (i.e., patient outcomes.) The Pennsylvania State University Technical Assistance Team (PSU TA) will complete several tasks including:
Prepare a methodology emphasizing continuous quality improvement, gaining PA DoH consensus with this methodology, the initiation of analyses, and writing of formative reports and recommendations using both quantitative and qualitative metrics to provide important feedback to the PA DoH that can be disseminated to sites and used for planning and resource allocation on the agency timeline.
Develop a final report that integrates results for use in future policy and program development.
Coordinate with the PA DoH and American Society of Addiction Medicine (ASAM) for the delivery of continuing medical education credits specific to MAT.
This project includes quantitative and qualitative analysis to support successful continuous quality improvement and optimization of the PacMAT program.
Quantitative Assessment: PacMAT site data as well as state and/or federal administrative data will be leveraged to understand the PacMAT hub-and-spoke model in a manner that improves operational processes. Analyses for TA will include descriptive information across the quantitative outcomes of focus. Further, statistical models will be utilized to assess differences between PacMAT patients and comparison groups as controls. Key information on site differences (e.g., financing model, local Naloxone availability, etc.) will be included in models.
Qualitative Assessment: To provide greater context to the quantitative analyses and due to lengthier timelines often required to access many types of quantitative data (identification, availability, data use agreement negotiation, on-boarding, data cleaning, analysis) the PSU TA team will conduct qualitative analyses to provide actionable insights in a shorter timeline. Qualitative work will supplement quantitative assessment to better understand the systems functioning and financial structure of PacMAT sites and patient outcomes. These analyses will inform and contextualize quantitative analyses as data become available.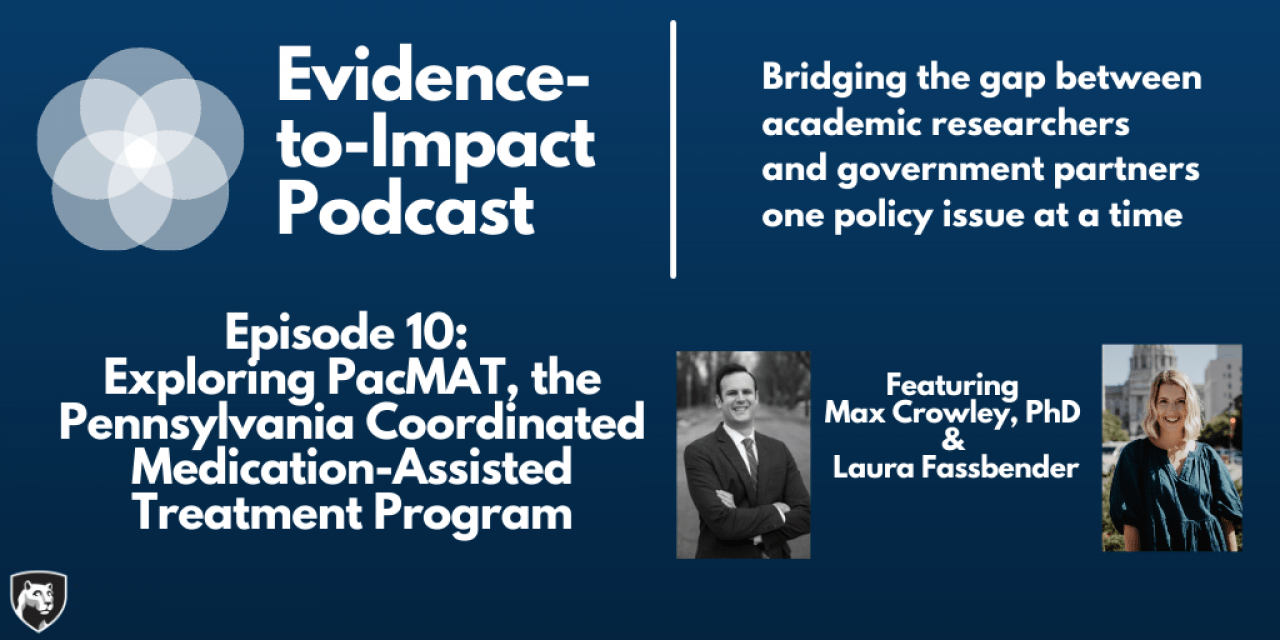 Hear about the challenges and successes behind developing the interdisciplinary architecture for PacMAT by listening to the March 2020 Evidence-to-Impact podcast, "Exploring PacMAT, the Pennsylvania Coordinated Medication-Assisted Treatment Program," featuring Laura Fassbender, then executive advisor in the Office of the Secretary at the Pennsylvania Department of Health, and Max Crowley, associate professor of human development and family studies and the director of Penn State's Evidence-to-Impact Collaborative.
Partners
Pennsylvania Department of Health