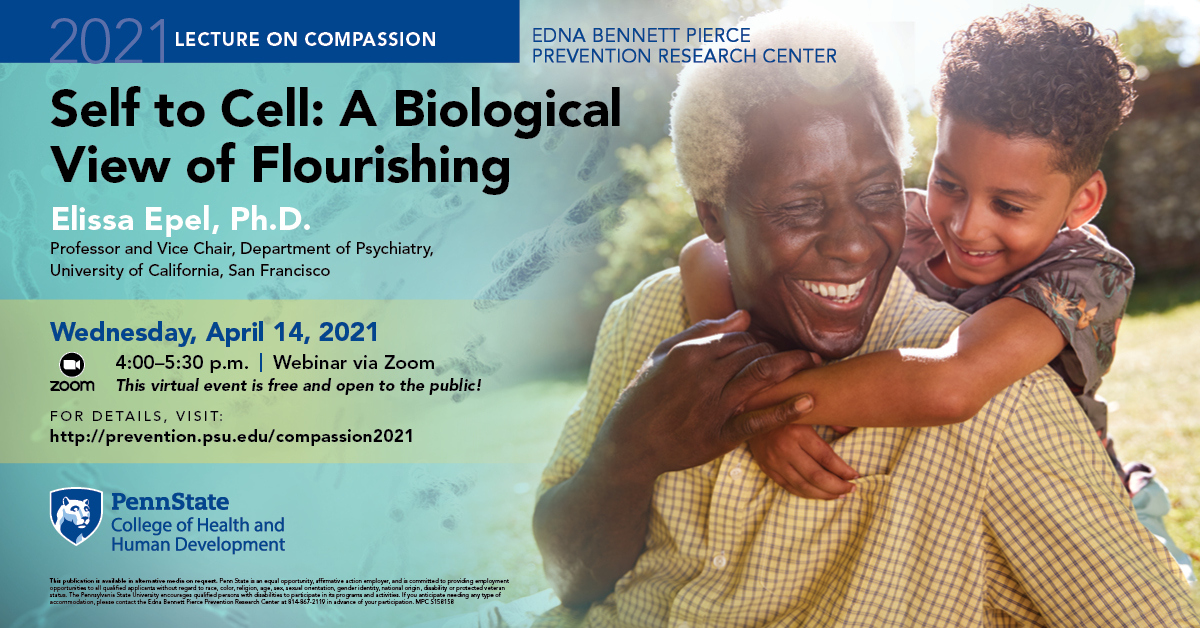 Supplemental readings
Introduction: "Aging is both the biggest predictor of morbidity and mortality, and yet there is great plasticity in people's rate of aging, within any age group. I will ask what our cells can tell us about identifying the important drivers of healthy and slower aging. By looking at cellular aging mechanisms (telomeres, epigenetic clocks, inflammation), we can examine influences in midlife, before disease onset and can even identify influences on aging trajectories in newborns.
I will discuss how both historical contextual and proximal factors including individual differences in stress processes shape the cellular rate of aging, focusing on telomeres, within an individual's life and for offspring. In many ways, aging, and resilience to premature aging, begins in the womb, and is especially influenced early in life.
At a macro level, it is the balance between levels of safety and love vs. levels of fear that helps shape the rate of aging.  Interventions for high risk groups that may work on reducing stress arousal and especially promoting sense of safety have been tested to examine cell aging outcomes, with initial evidence for family-based programs and certain types of meditation."
About the speaker: Elissa Epel, Ph.D. is Professor and Vice Chair in the Department of Psychiatry at the University of California, San Francisco (UCSF). Her research aims to elucidate mechanisms of healthy aging and to apply this basic science to scalable interventions that can reach vulnerable populations. She is the Director of the Aging, Metabolism, and Emotions Center and the Consortium for Obesity Assessment, Study, and Treatment. She is also Associate Director of the Center for Health and Community.
Dr. Epel studies the psychological, social, and behavioral pathways underlying chronic psychological stress and stress resilience that impact cellular aging. She also studies the interconnections between stress, addiction, eating, and metabolic health. With her collaborators, she is conducting clinical trials to examine the effect of self-regulation and mindfulness training programs on cellular aging, weight, diet, and glucose control. She co-leads studies funded by the National Institutes of Health (NIH), including the National Institute on Aging; National Institute on Mental Health; National Center for Complementary and Integrative Health; National Institute of Child Health and Human Development; and National Heart, Lung, and Blood Institute. She is involved in NIH initiatives on role of stress in aging, reversibility of early-life adversity, and the science of behavior change. She is president of the Academy of Behavioral Medicine Research, co-chair of the Steering Council for Mind & Life Institute, and co-lead of the UCSF Task Force on Climate Crisis and Mental Health.
She studied psychology and psychobiology at Stanford University (B.A.) and clinical and health psychology at Yale University (Ph.D.)  SHe has received several awards, including the American Psychological Association Early Career Award and the Academy of Behavioral Medicine Research Neal Miller Young Investigator Award. She was named Innovator of the Year by the McLaughlin group and received the 2017 Silver Innovator Award from the Alliance for Aging Research. She is also a member of the National Academy of Medicine.
Her research has been featured in outlets such as TEDMED, NBC's Today Show, CBS This Morning, 60 Minutes, National Public Radio, The New York Times, The Wall Street Journal, Wisdom 2.0, Health 2.0, and many science documentaries. She co-authored "The Telomere Effect" (2017) with Elizabeth Blackburn, a New York Times bestseller in the category of Science.